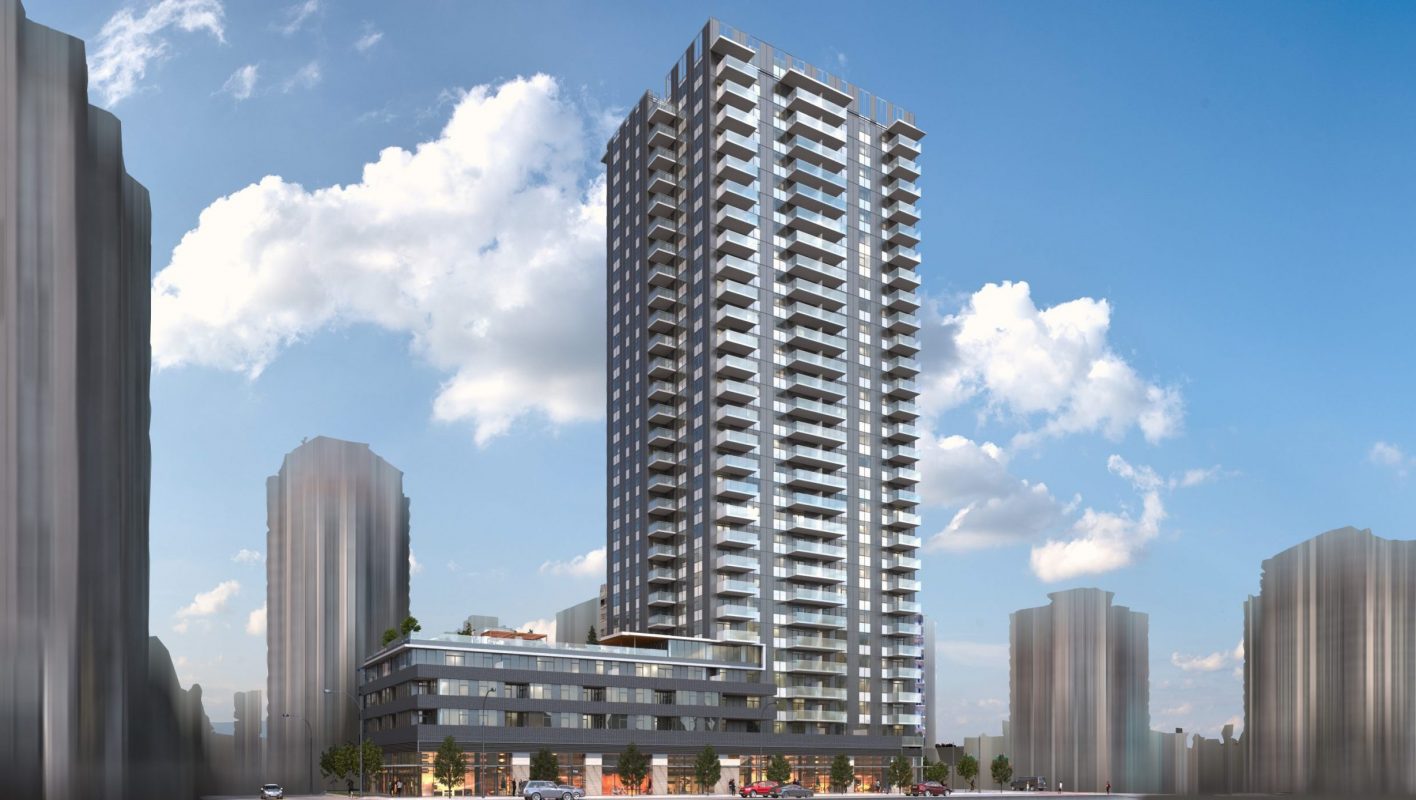 Construction Begins On 29-Storey Rental Tower In New Westminster's Uptown
By: Kenneth Chan
April 19, 2023
Construction officially starts this week on a sizeable secured purpose-built rental housing project in New Westminster.
In a release Monday, PC Urban Properties says the 29-storey tower at 616-640 Sith Street– the southwest corner of the intersection of Sixth Street and Seventh Avenue, adjacent to Royal City Centre shopping mall– is scheduled for occupancy by the end of 2025.
There will be a total of 338 rental homes, including 328 market units and 10 below-market units, plus over 10,400 sq ft of ground-level retail/restaurant uses to add to Uptown's retail district.
The minor component of below-market rental units will be managed by the Seniors Services Society of BC, while a 500 sq ft commercial space will be made available to a charitable organization at a below-market rate.
Four underground levels will contain 271 vehicle parking stalls- a 27% reduction of what is typically required for such a building of this size and its uses- and 526 secured bike parking spaces, which exceeds City requirements. Residents will have access to five car share vehicles parked on-site.
A real-time digital installed near the building's main entrance will display public transit information. The location is well-served by several frequent bus transit routes reaching SkyTrain's New Westminster Station.
"We are excited to expand our purpose built residential portfolio with this new concrete tower and to help boost the rental options in this area," said Brent Sawchyn, CEO of PC Urban Properties, in a statement.
"We are proud to integrate the affordable seniors rental into the building so that this is a complete community. We recognize the need for more rental housing options in New West and we believe everyone deserves a home."
According to the developer, fewer than 100 secured rental homes have been added to the Uptown area over the past decade. New Westminster has one of the highest percentage of renters amongst Metro Vancouver municipalities, which one of the lowest vacancy rates in the region.
Orr development previously owned the site and proposed to build a tower with strata condominium and rental housing uses, but then in July 2021 it sold the property and development plans to PC Urban Properties.
The previous redevelopment design by Yamamoto Architecture was revised by IBI Group following the change of ownership and revised uses.
"The City of New Westminster is pleased to support PC Urban Properties, and the first major new residential development in Uptown in a decade. With the long-term commitment to market rental and walkable commercial space, this new project will meet the housing needs of our growing community and bring a refreshed streetscape to Uptown," said New Westminster Mayor Patrick Johnstone.
"The project has a well-integrated and accessible design that aligns with the City's Official Community Plan and will be a great addition to the neighbourhood."