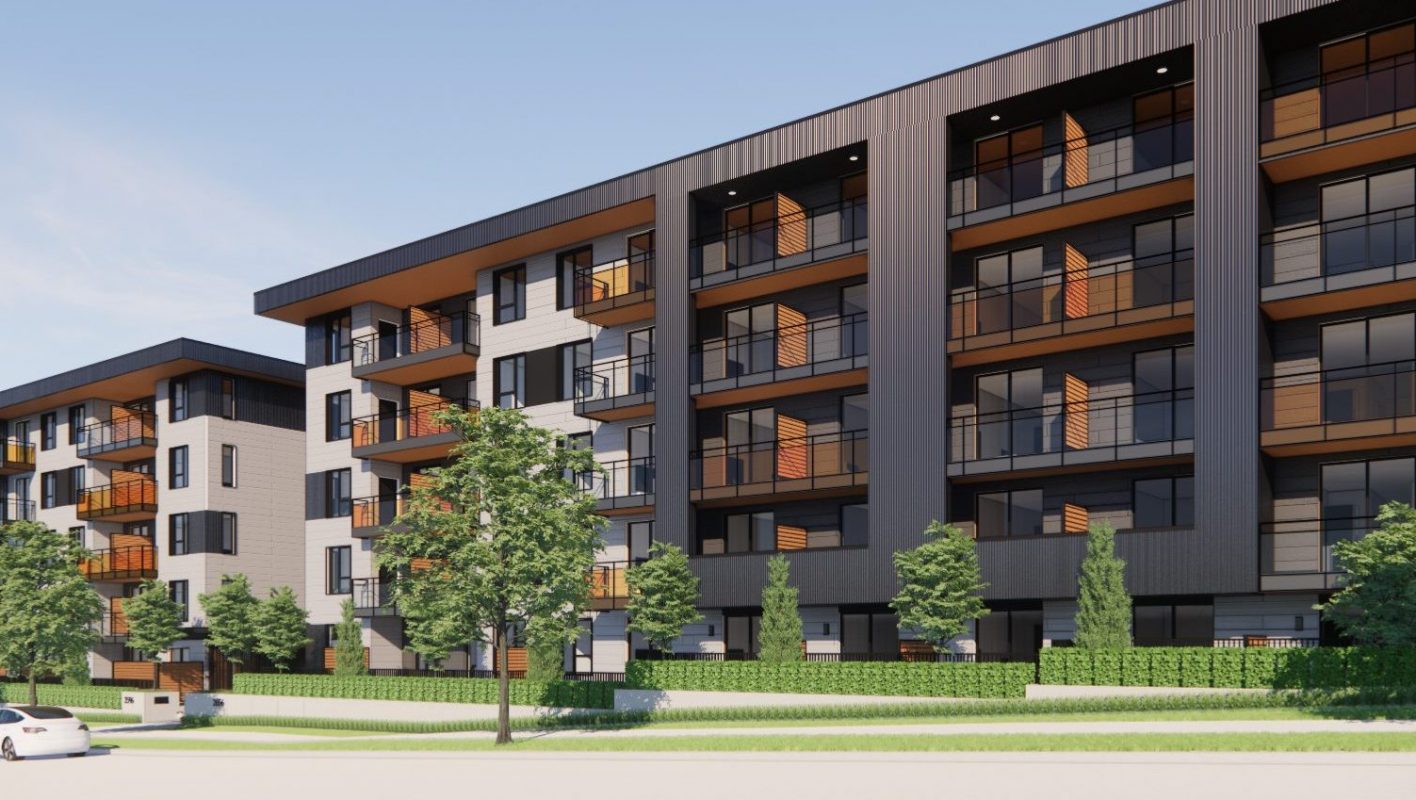 PC Urban, Fiera to Redevelop South Vancouver Multifamily Property
By: Nicholas Sokic
October 5, 2023
PC Urban Properties and Fiera Real Estate are expanding their Metro Vancouver multifamily investment partnership to develop 141 rental apartments– including 12 townhomes– at a property in South Vancouver.
A new proposal is awaiting a development permit from the city after receiving rezoning approval this summer.
Construction at the 1.09- acre site at 2596-2656 East 41st Ave. is expected to begin in fall 2024, with estimated completion in early 2026.
"We are committed to increasing the supply of purpose-built rental housing, despite the growing obstacles and market conditions," Brent Sawchyn, PC Urban's CEO, said in the announcement. "We are excited to be part of the new SRP (secured rental policy program to fast-track rental housing in Vancouver.
"City staff upheld their commitment to deliver approvals for this important housing project in the time frame they initially outlines. Actions like the elimination of GST on new rental buildings and speed of approvals will help alleviate our housing crisis."
A PC Urban spokesperson told RENX the federal government's decision to remove the GST from purpose-built rental projects in Canada was not a factor in the decision to build this site– saying it was slated to move ahead with or without exemption.
Vancouver-based PC Urban has developed over $3.5 billion worth of projects across all asset classes. It currently has 5.2 million square feet of space under development including 1.4 millino square feet of office space and 1,200 residential units.
Toronto-based Fiera is a global investor which manages over $9.3 billion in commercial real estate through a range of investment funds and accounts as of the end of June 2023.
PC Urban and Fiera's Partnership
The companies have been partners for over four years. They have jointly developed three other purpose-built projects comprising 491 units.
Their most recent project was announced in February, as PC Urban partnered with the Fiera Real Estate CORE Fund to develop a new mixed-use property in Esquimalt, B.C., which includes 198 apartments.
Currently the sire of six single-family homes, the South Vancouver property will be redeveloped to provide a range of housing types, including studios, one-, two- and three-bedroom apartments and three-bedroom townhomes.
The current building design includes more than 35 per cent family-oriented homes, including 12 three-bedroom townhomes.
Amenities include rooftop gym, children's play area and green space throughout the site, as well as ample parking and in-suite storage. Nearby off-site amenities include Norquay Park, an elementary school and Killarney Community Centre.
"We are dedicated to shaping a future where purpose-built rental stands as pillars of progress, addressing the critical need for housing supply," Kathy Black, Fiera's senior vice-president of development, core opportunities and strategies, said in the announcement.
"We are excited to be collaborating again with our trusted partner, PC Urban, on this program where we are crafting communities and enhancing urban living."
"Purpose-built rentals are the foundation upon which thriving neighbourhoods are built."