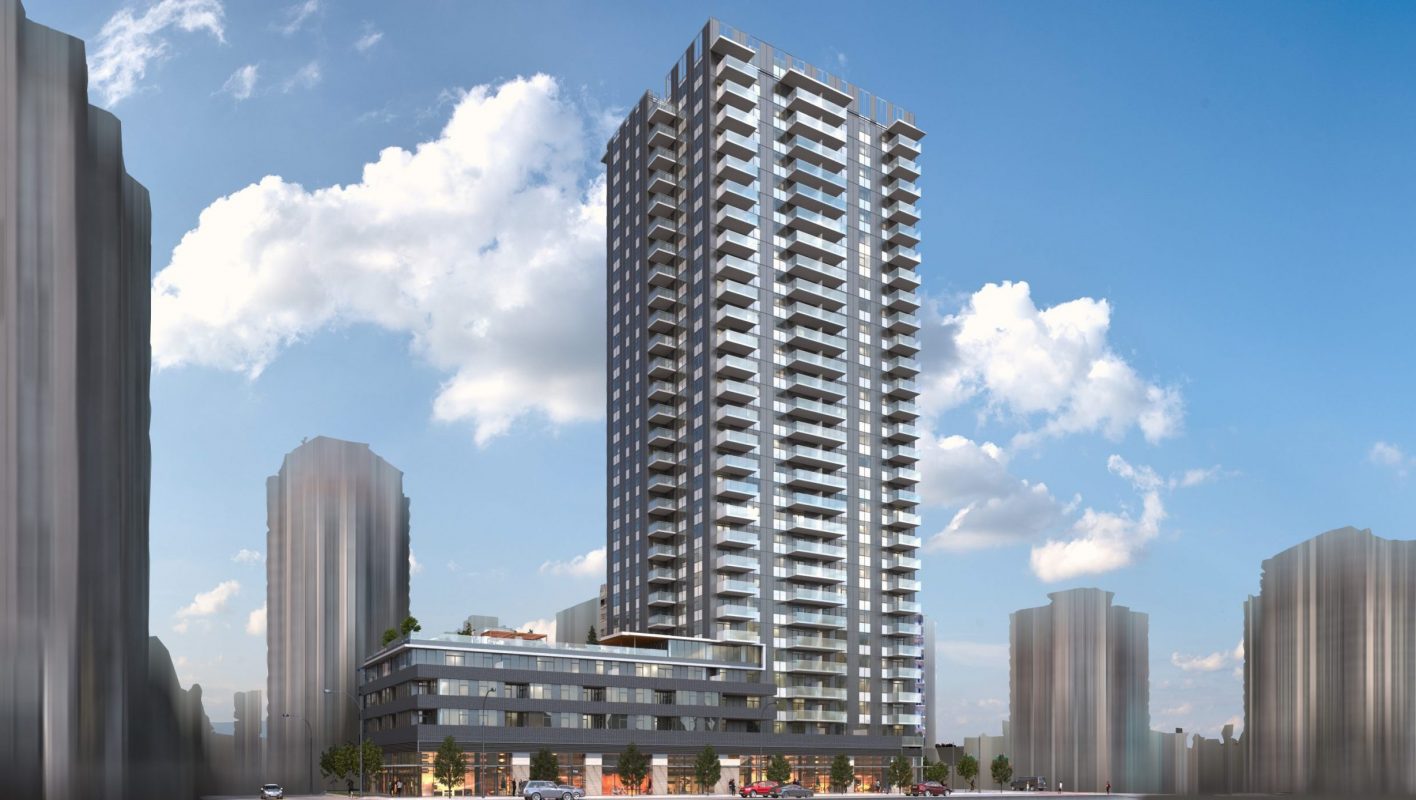 PC Urban Launches Urban Flats and a New Westminster Apt. Tower
By Evan Duggan
April 27, 2023
Vancouver-based developer PC Urban is launching a spin-off brand focused on building purpose-built rental (PBR) homes in Metro Vancouver, Victoria and Kelowna.
Called Urban Flats, the new arm of the organization aims to develop permanent rental communities catering to residents in B.C. who plan to rent long-term, but still expect homes and amenities that serve all of their needs and tastes.
We've seen more rental projects over the last couple of years through the development community, but often they seem to be a little bit of an afterthought," PC Urban CEO Brent Sawchyn said in an interview.
The developer also broke ground in April on a rental tower in New Westminster.
Canadian builders have moved away from PBR specialization since the federal government pulled back on supporting the development of permanent rental homes, beginning in 1980, Sawchyn said. "Everyone started piling on condominiums."
Trend back toward rental apartment construction
However, the ride appears to be changing. Developers are showing a growing interest in rental apartment construction, according to a national housing report by the CMHC.
Starts of PBR climbed 49 per cent in 2022 to 9,369 units in Metro Vancouver, the highest annual total in over three decades. Meanwhile, condo starts slumped 25 per cent to 9,917 units, a pace similar to that of 2015.
The report says higher mortgage interest rates have slashed the purchasing power of potential homebuyers, leading to softer market conditions for presale condos. Meanwhile, government incentives and favourable financing for rental projects have become more readily available in the rising interest rate environment.
The CMHC says a strong outlook for rental demand, due to rising immigration and homeownership being increasingly unattainable, is making rental development more attractive.
"There's that mindset within Canada that rental housing is a good form of transitionary housing until you can afford a place to buy," Sawchyn said. That's a mindset that should change, but it requires more continuity among rental home builders, he said.
Owning a home in Metro Vancouver has become particularly unattainable so more people are setting in as long-term or permanent renters, Sawchyn said.
PC Urban's New Westminster Tower
The move toward Urban Flats comes as PC Urban broke ground in mid-April at its first purpose-built rental tower in New Westminster.
It's a 29-storey, concrete tower with 338 rental homes in the Uptown Neighbourhood at 616-640 Sixth Street. The tower will also include 10 units of affordable housing operated by the Seniors Services Society of BC.
In addition to street-level retail, the development will offer 500 square feet of below-market commercial space to a charitable organization and will have 10,442 square feet of total commercial space.
The tower will be located a short walk from the Massey Theatre, Queens Park, the library, playing fields and the Royal Centre Mall. Development plans include four levels of underground parking with 271 stalls.
The IBI Group- designed building is now under construction with completion and occupancy expected in Q4 2025.
The Uptown neighbourhood has had fewer than 100 rental units added in the past 10 years, according to PC Urban. That's despite New Westminster having the highest percentage of renters in Metro Vancouver and the lowest vacancy rates in the region– currently below one per cent.
With a 7.6 per cent annual local population growth rate, Sawchyn is expecting strong demand.
"The City of New Westminster is pleased to support PC Urban and the first major new residential development in Uptown in a decade," said New West Mayor Patrick Johnstone in a release. "With the long-term commitment to market rental and walkable commercial space, this new project will meet the housing needs of our growing community and bring a refreshed streetscape to Uptown."
"This project has a well-integrated and accessible design that aligns with the city's Official Community Plan and will be a great addition to the neighbourhood."
PC Urban, Fiera Real Estate Esquimalt Development
Earlier this year, PC Urban Properties and Fiera Real Estate CORE Fund announced a new purpose-built rental mixed-use project in Esquimalt in the capital region, with 198 rental apartments. The development at 858 Esquimalt Rd. will include 8,400 square feet of retail at the ground level, including a liquor store.
The development consists of two buildings, each five storeys, with an "abundance" of on-site amenities. It will be a dog-friendly and include features such as EV chargers.
Developing a standalone rental brand can help create continuity, familiarity and comfort among renters, Sawchyn said.
"They know what the amenity package is like and the architecture… There's a wonderful opportunity to have a clarity of offering through a distinct brand."
Amenities can be levelled-up to include things like dog-wash stations, electric vehicle chargers, cycling amenities and nicer community gathering places.
"It's one thing to put in a gym," he said. "It's another thing to be able to activate the gym with classes."
Sawchyn said improved building tech and security systems could also emerge as standards in the Urban Flats brand.
PC Urban has about 800 rental units under construction and another 400 units in the design and approvals stage, with 2024-'25 targets for completion.