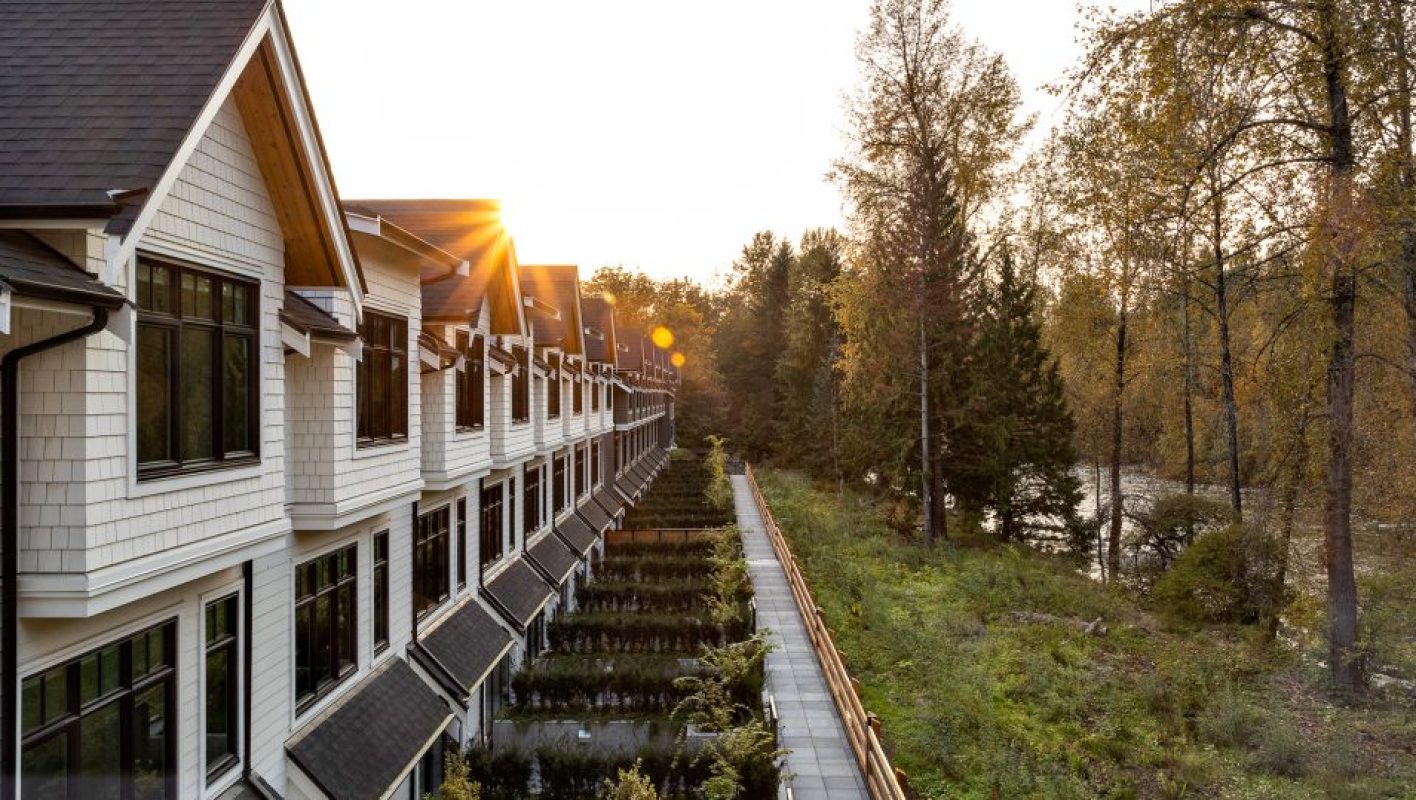 Holland Row Riverfront Rowhomes Latest Addition to Lions Gate Village
Kathleen Freimond
August 8, 2020
Developer PC Urban's project is comprised of 23 three- and four-bedroom homes just a stone's throw away from Capilano River.
Holland Row is a collection of 23 move-in ready riverfront rowhomes in North Vancouver's burgeoning Lions Gate Village neighbourhood, north of the intersection of Marine Drive and Capilano Road.
The Village is designated as one of four key areas for growth in the District of North Vancouver's Official Community Plan (OCP) and will ultimately include a community recreation centre, commercial and retail space, a community plaza and access to parks and trails. Guiding development in the area, the OCP outlines a mix of housing options to accommodate a wide range of residents.
Recognizing the opportunity, Sawchyn says PC Urban purchased and consolidated all the properties along Glenaire Drive, from the Fullerton Bridge to Klahanie Park, and started construction of Holland Row in 2018. Close to 10,000 square feet of the just under 40,000 square feet consolidated site was gifted to the municipality to be used as riparian park space between the rowhomes and the riverbank.
In designing the three and four-bedroom rowhomes, Sawchyn and Robert Cadez, PC Urban's director of residential development, were inspired by attached homes in central London and Europe. While a more typical development would have half the homes facing the street and half facing the river with a central courtyard, PC Urban chose to build fewer homes than was permitted and maximize the river frontage.
"Attached homes in Belgravia and Chelsea [in London] read like single-family homes, they all have their own front door, go front to back and don't have to share a courtyard," says Sawchyn.
He says the development will appeal to younger couples, people moving up to gain more living space and downsizers who may want the convenience of a lockup and go lifestyle.
"The single-family housing market is very expensive and out of reach for many," he says, adding Holland Row offers 21 four-bedroom units and two three-bedroom units. The three-storey homes range from 1,614 to 2,355 square feet, and each unit has a secured parking garage with entry directly into the residence. All garages have been pre-wired for electric vehicle charging stations.
Grimwood Architecture was tasked with designing residences to emulate the look and feel of single-family homes. Sawchyn describes the architecture as "understated elegance: classically conservative and timeless – traditional that will wear well over time."
There was a similar brief for the interior design team at BYU Design, who were asked to create clean-look schemes to enable purchasers to embellish their space based on their own taste and design sensibilities, says Sawchyn.
Nicole Duval, senior interior designer, BYU Design, says there are two colour schemes: the light and airy Spring, and Autumn, with its rich, warm tones. All the features and finishes were designed to complement the riverside location.
"The soothing tones and organic patterns work in harmony with the nature just outside the homes," she says.
Slabs of stone-patterned porcelain evoke impressions of water while glass rails in the stairwell let light permeate through the homes with the engineered wood floors [main level] adding another natural feature, says Duval.
In the kitchen, the Spring scheme has reverse shaker (raised panel) cabinets while the Autumn scheme reveals flat-panel cabinetry.
"The kitchens have lots of amazing storage. Select units have a unique open cabinet with glass shelves for homeowners to showcase their favourite items, and other units get additional pantry storage," she says.
The major appliances are Gaggenau, including a 36-inch integrated refrigerator with bottom freezer, a 36-inch five-burner gas cooktop and hood fan and an integrated dishwasher. There is also a dedicated cabinet space to manage recycling, quartz countertop and backsplash, and a double-bowl stainless steel sink.
In the living room of the display home (Spring colour scheme) the wall running the length of the home is painted in Benjamin Moore's Stone Harbor, an elegant complement to the accent wall that features large format (eight by four foot) stone-look porcelain tiles and a slim model Amanti electric fireplace.
From the living room, folding glass doors open onto a private patio where there is plenty of space for a generous size barbecue (there are built-in gas hookups) and residents can look forward to alfresco dining complete with the natural background sounds of the flowing Capilano River.
The second floor includes bedrooms, the main bathroom and a laundry room with side-by-side LG washer and dryer (stacked in the three-bedroom units), a stainless-steel sink and plenty of space for sorting and folding on the quartz countertop.
On the third floor, the master bedroom overlooks the riverfront and has a stylish ensuite, including a frameless glass shower and MAAX Rubix bathtub. Marble-look 24 by 24-inch porcelain tiles cover the walls (polished finish) and floor (matte finish) while the double vanity and medicine cabinet take care of storage needs. In the display home, pendant lights above the floating vanity with its double sinks and integrated LED strip lighting operated by a motion sensor enhance the spa-like ambience.
There are plans for a second phase of 15 rowhomes that will complement the existing design and esthetic of the 23 completed homes.