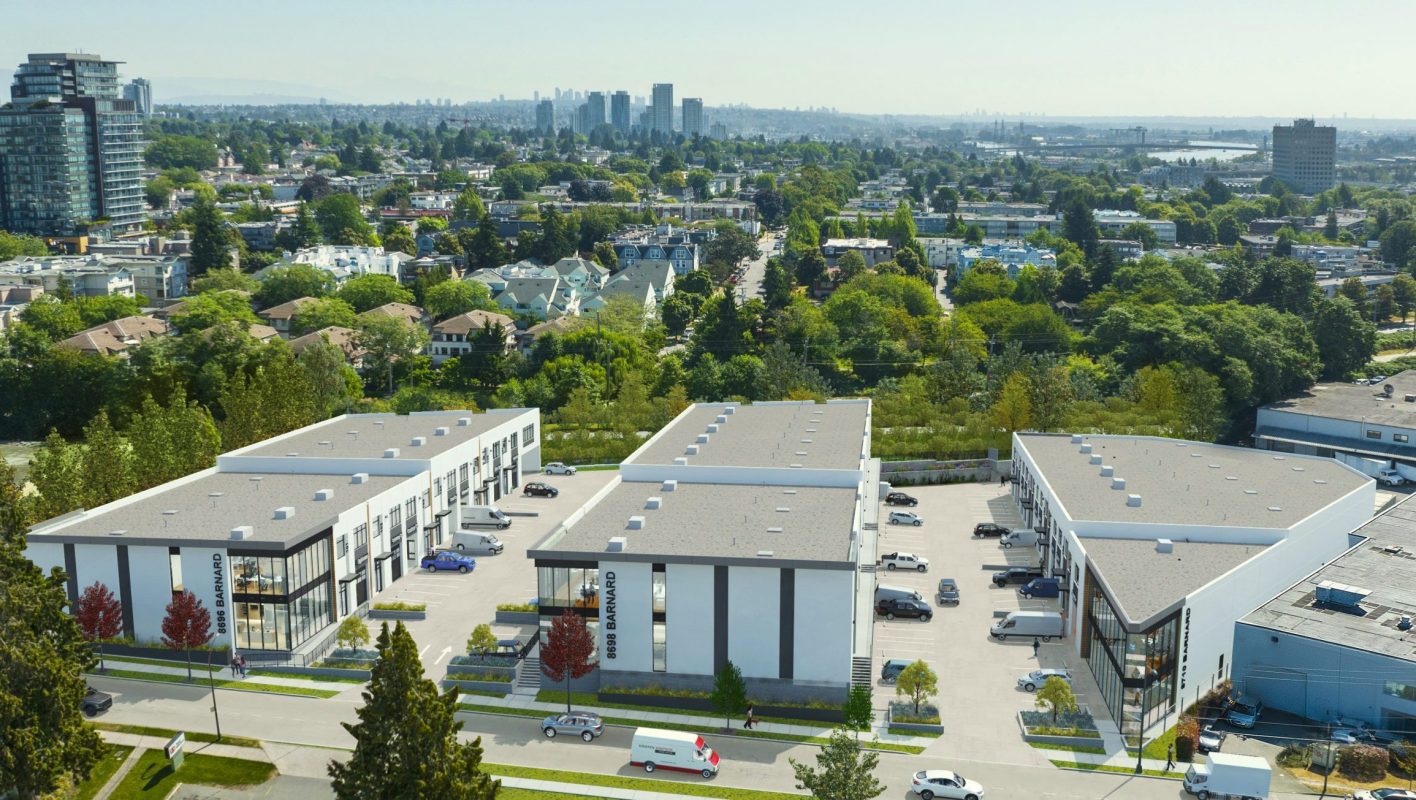 PC Urban and Nicola Wealth Launch New Industrial Strata Development in Vancouver's Southlands neighborhood
Vancouver, BC – June 5, 2023
PC Urban and Nicola Wealth have launched a new industrial strata development in southwest Vancouver for its latest industrial strata development, IntraUrban Southlands. This traditional industrial project, at 8696, 8698 and 8710 Barnard Street, will transform the current site near the city's historic waterfront into a vibrant new business community by the Fraser River, providing rare ownership opportunities for small to medium sized companies in the area.
This is PC Urban's 12th IntraUrban development, a brand known for providing sophisticated industrial spaces to businesses across BC. The new 120,000 square foot project will provide 32 ground-oriented units across three buildings with high-end amenities, connectivity to the Arbutus Greenway, individual end of trip facilities, and top of the line specifications.
With a location close to the airport, highways and the city, IntraUrban Southlands provides a diverse range of industrial spaces of various sizes, offering flexible opportunities for showroom, warehouse, production, and manufacturing purposes. Each building will feature a sleek, modern design that is "almost too good to be industrial," says PC Urban CEO Brent Sawchyn. "This is a rare ownership opportunity in southwest Vancouver in an ideal location for small to medium sized businesses closer than ever to where they live, work and play. There are very few opportunities in this area and all the IntraUrban projects we have built in the past in the area have sold out quickly."
Metro Vancouver continues to have one of the lowest industrial vacancy rates in North America, now at 0.9%, and demand for industrial has remained robust throughout the pandemic and into the current economic headwinds, with lease rates rising through the past year at average rates into the mid-$20s per square foot. "Demand is up, vacancy is stable and lease rates have increased," says Kevin Kassautzki, Principal at Avison Young. "From an owner and investor point of view, this is a savvy investment."
"Throughout the turbulence of rising interest rates, we have seen continued demand for industrial space across Metro Vancouver. There has been sustained growth despite overall economic concerns and we are seeing the most demand for traditional, thoughtfully-designed space and that is what this project is all about," says Kassautzki. "This is a prestige, traditional industrial development, with top-of-the-line features and amenities that are unheard of in the market, and that is what makes it different from other industrial developments in the area."
"It's the westernmost development in the city that is pure industrial, and a return to the typical industrial form with direct access to loading at grade, high ceiling heights, heavy floor loads and small bays," said Matt MacLean, Executive VP at Cushman & Wakefield. "It is not vertical or multi-level. This project offers purely ground floor space with some mezzanine that will provide refined, higher-end space in one of the most affluent neighborhoods in Vancouver for local business owners with business or storage or leisure needs. There are lots of flexible opportunities."
Flexible industrial spaces range from 1,741 – 8,325 square feetand include: contemporary storefront and generous glazing, minimum 26-foot clear ceiling heights for ground floor units and 13-foot clear ceiling heights for lower level units, grade door access and showers in each unit.
As the developer behind IntraUrban projects, PC Urban has been a pioneer in industrial strata, providing small and medium-sized businesses with flexible, premium-quality business space that's almost too good to be industrial. With highly flexible floorplans, modern design, and a full range of best-in- class features, PC Urban's sold out IntraUrban projects have a track record of innovation and success across Greater Vancouver, Southern Vancouver Island and the Okanagan. From unit design to public art, PC Urban has raised industrial strata to a new level, giving more Western Canadian businesses a chance to own their future. Notable projects in Vancouver include the original IntraUrban Business Park located at 8811 Laurel Street, and the two most recent, IntraUrban Gateway and IntraUrban Kent, both recently sold out with delivery in summer 2023.