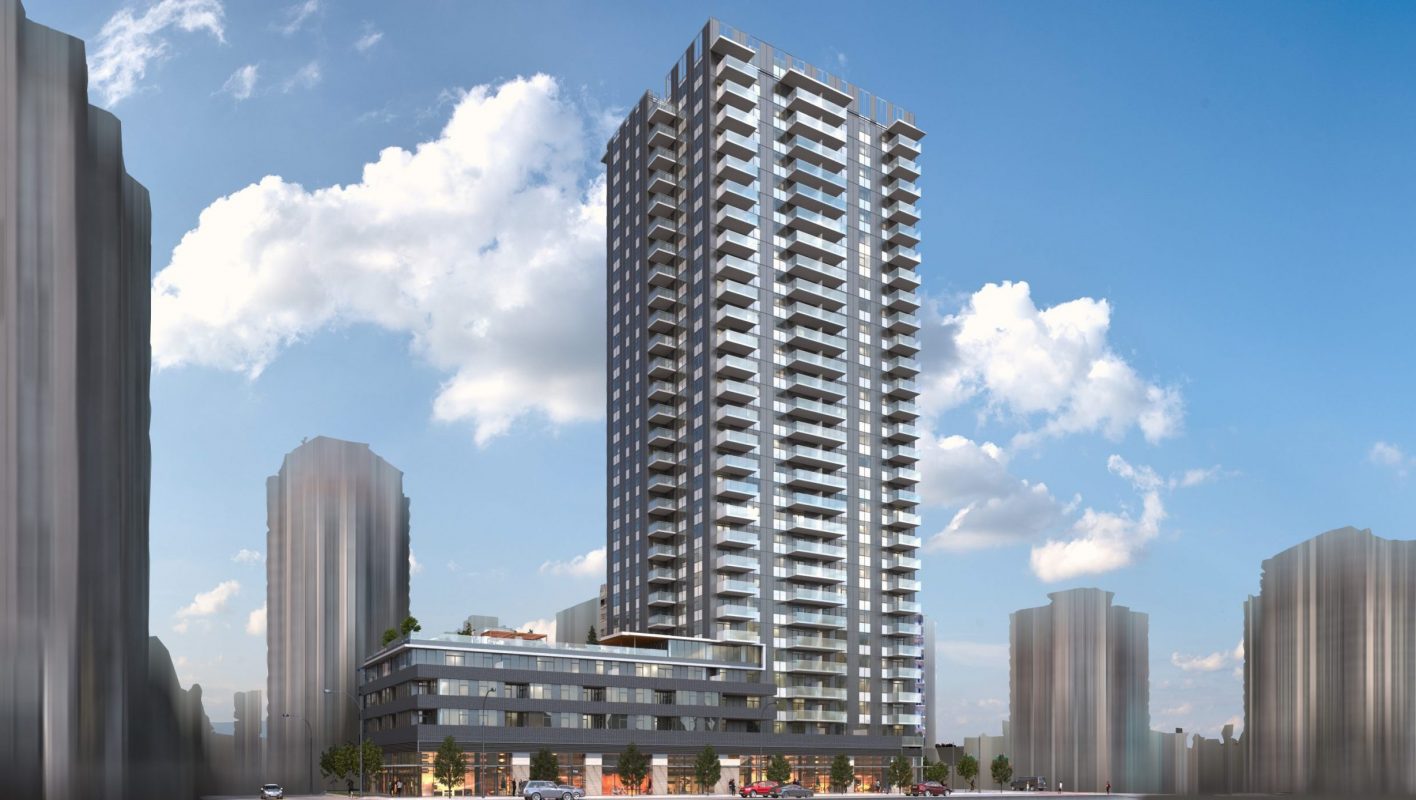 PC Urban Expands Residential Portfolio With New 29-Storey Tower In New West
By Howard Chai
April 19, 2023
Vancouver-based developer PC Urban continues to grows its residential portfolio, this time with a new high-rise in New Westminster, which broke ground this week.
PC Urban's better-known projects include the revitalization of the heritage Lightworks Building in Mount Pleasant and Evolution Block, a stacked industrial building. This latest project represents the company's "first residential concrete high-rise purpose-built rental tower," according to its portfolio, although not the first residential project overall.
The new tower will rise at 616-640 6th Street in the Uptown area of New West, taking up an entire block between 7th Avenue and Princess Street, adjacent to the Royal City Centre shopping mall and a five-minute walk from Moody Park.
According to City Planning and Development memo, the New West site was formerly occupied by a low-rise commercial building with nine commercial tenants, and was owned by a different party before PC Urban acquired it sometime between late- 2021 and mid-2022.
The original rezoning application was approved by the City in October 2019, and was for a 29-storey mixed-use building with a 142 strata condominiums, 95 secured market rental units, and commercial units on the ground floor, for a total floor space ratio (FSR) of 6.46.
The building will remain a 29-storey mixed-use building, but will now house 338 market rental units and 10 below-market rental units, atop a three-to-four-storey podium with about 10,000 sq. ft of commercial space. Of the 338 units, there will be 58 studios, 160 one-bedroom, 92 two-bedrooms, and 28 three-bedrooms.
According to the City, to account for the significant increase in units while maintaining the same height, the tower's floorplate has increased from 7,414 sq. ft to 8,073 sq. ft (8.9%) and unit sizes have been reduced. The final FSR will be 7.41.
PC Urban says that New West has the highest percentage of renters in Metro Vancouver and that the Uptown neighbourhood has had less than 100 new rental units added in the past decade. It hopes to address those two things with this project.
"We are excited to expand our purpose built residential portfolio with this new concrete tower and to help boost the rental options in this area," said CEO of PC Urban Properties Brent Sawchyn. "We recognize the need for more rental housing options in New West and we believe everyone deserves a home."
Parking will be provided in a four-level underground parkade, with the number of vehicle stalls reduced from 313 to 372 and the number of bicycle stalls increased from 302 to 544. To account for the reduced vehicle parking, PC Urban will provide monthly transit passes for units without a parking space, as well as five Modo car share spaces and car secured for the building, along with Modo membership for each rental unit.
Toronto-based IBI Group is serving as the architect for the project, who say that the project "contributes to the City of New Westminster's goals for 'Local Centres' that 'play an important role in accommodating growth, promoting use of existing transit networks, and maintaining neighbourhood character in urban areas outside of downtown.'"
Regarding the design, they say that "the ground-level experience will blend with the surrounding Sixth Street characteristics and enhance the overall Uptown mixed-use node […] by using high-quality materials, glass commercial frontages, clear and welcoming entrances, and landscaped podium base."
Also noteworthy is the approval process the project went through. According to the City, it initially granted a Third Reading to the latest proposal in June 2022, but then realized it "made an administrative error in the timing of the Council readings due to changes in the local Government Act." It then repealed all three readings in July and restarted the process to correct the error, but did not ask PC Urban to complete any additional steps.
New West City Council subsequently granted a First, Second, and Third Reading and was approved the rezoning application on August 29, and according to PC Urban, the project is currently expected to be completed by Q2 2026.