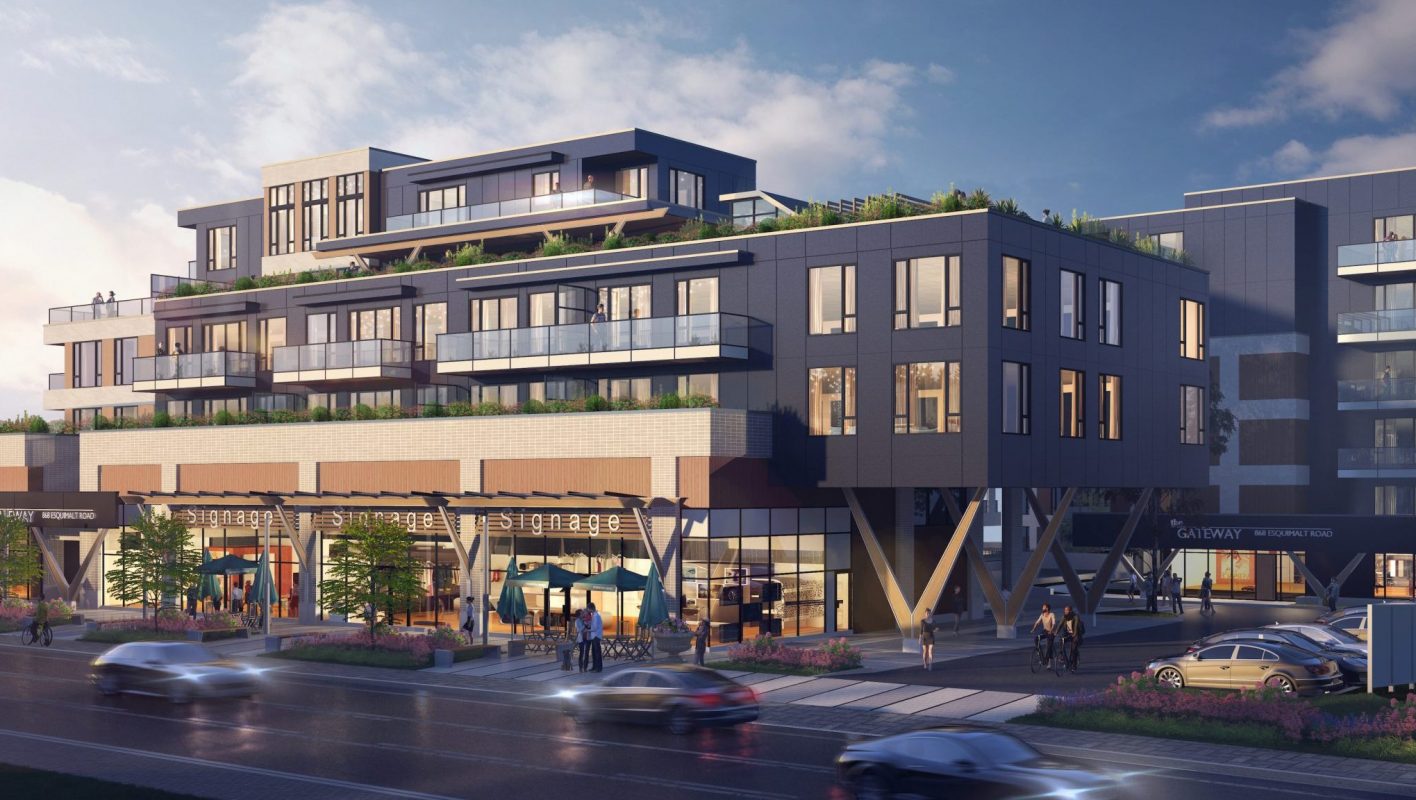 PC Urban Properties Corp and Fiera Real Estate Break Ground on New Multi-Use Development in Esquimalt
Esquimalt, BC, February 9, 2023
PC Urban Properties and partner Fiera Real Estate CORE Fund (the "Fund") have broken ground on a new, mixed-used development in Esquimalt. Located at 858 Esquimalt Road at the former "Cask and Keg" liquor store site, the development will offer 198 purpose-built rental homes and 8,400 square feet of retail creating a new gateway to Esquimalt's West Bay neighbourhood and Town Centre.
"This is a key area of Esquimalt and an opportunity for us to work with Fiera to provide a new community hub and enhance the supply of purpose-built rental homes in the region," said Brent Sawchyn, CEO, PC Urban Properties. "This development will provide much needed homes for families and individuals who want to be close to the city centre, and brand-new retail for the whole community to enjoy."
The Township of Esquimalt envisioned this property for an active, mixed-use residential and retail redevelopment as part of the West Bay Local Area Plan. The much-loved, locally owned, Cask & Keg liquor store will move into 7,200 square feet of new space fronting Esquimalt Road, and the remaining 1,200 square feet of additional retail space will be leased in the coming months.
The residential vacancy rate in the Capital Region hovers around one per cent, declining from 2.1 per cent in 2021. This project offers high-quality rental homes each with outdoor living, common health and wellness facilities, rooftop gardens, work and leisure areas over 2 pet-friendly buildings. Sustainably designed by WA Architecture, the wood-framed project is climate-conscious, and meets the BC Building Code's Step Code 3 requirements.
"This development represents a positive move forward for Esquimalt," said Mayor Barbara Desjardins. We'll see the property flourish to not only retail space, but retail alongside much-needed rental housing– housing that offers amenities that reinforce active, green and connected communities."
Bicycle parking stalls are included for every home and the location is near the E&N Rail Trail with connections to the network of bike trails throughout the region. A car-share program will also be facilitated on site for use by residents and the public alike.
The outdoor public realm surrounding the project will be upgraded via street beautification along Esquimalt Road, including widened boulevard, landscaping, street trees and sidewalk improvements. PC Urban will also be installing voluntary public art piece on site as a further enhancement of the site for the community to enjoy.
"The Fiera Real Estate CORE Fund is pleased to undertake its second residential development in Victoria," said William Secnik, Senior Vice President and Fund Manager, Fiera Real Estate. "This project not only adds to the housing stock in British Columbia, but enables Fiera Real Estate to apply its environmental, social and governance (ESG) strategy directly into its investment management activities. This approach mitigates risk and helps drive stable long-term value creation. The foundation of our ESG strategy is based on the primary belief that the way in which we manage our funds should be responsible, resilient and engaged."