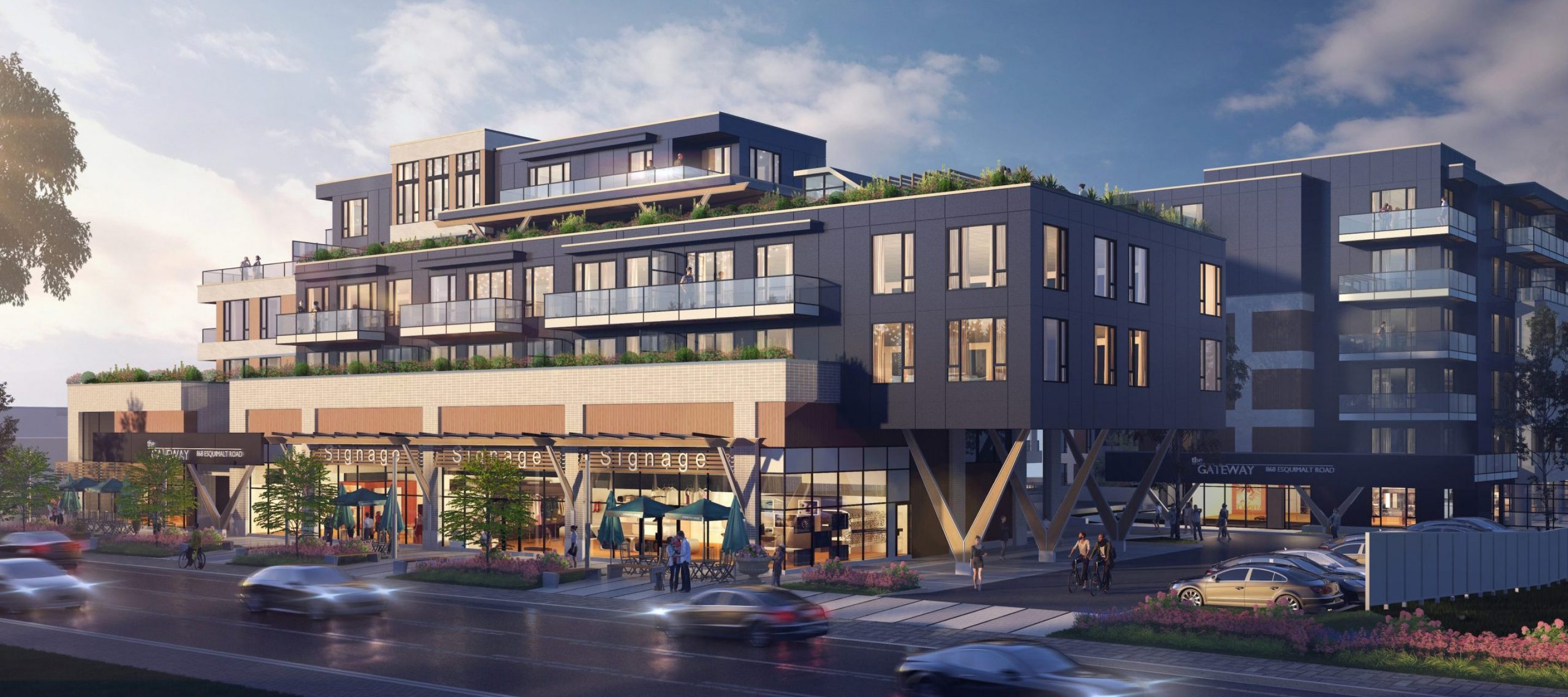 858 Esquimalt Road
Creating a new gateway for Esquimalt's West Bay Village
PC Urban is pleased to be working with WA Architecture to deliver an exciting mixed-use, purpose-built rental development project as 858 Esquimalt Road (better known as the "Cask and Keg" site).
Located on Esquimalt Road on the existing "Cask and Keg" liquor store site, the Township of Esquimalt has envisioned this property for active mixed-use residential and retail redevelopment as part of the West Bay Local Area Plan. This property will continue the revitalization of the neighbourhood and will provide a vibrant, sustainable and cultural new gateway to both Esquimalt's West Bay neighbourhood and Town Centre.
Benefits & Information:
Creation of approximately 200 new condo-quality rental homes for families, each with an outdoor living space;
Ground-level, rooftop and indoor residential amenity space complete with recreation areas, pet-friendly space, rooftop gardens, work & leisure areas;
Street beautification along Esquimalt Road including widened boulevard, landscaping, street trees and public art amenity provided on site by PC Urban;
Public streetscape and sidewalk improvements;
Over 1:1 bicycle parking stalls for every residential unit as well as over 1:1 parking stalls for every residential unit;
Working to secure a carsharing operator to provide both public and tenant use with parking in the at-grade parking lot;
Employment and retail amenities along Esquimalt Road (including the retention of the existing Cask and Keg establishment ); and
A wood frame and climate- conscious, low-impact design, meeting the BC Building Code's Step Code 3 requirements.

Housing:
A thoughtful mix of condominium- quality dwellings, PC Urban is proposing a building for the purpose of providing housing for:
Young professionals working in the City or nearby;
Families looking for a safe and accessible rental property;
Existing residents who desire to live along a bustling and growing neighbourhood corridor; and
Seniors looking for a modern and sustainable lifestyle in a walkable and convenient location.

Retail:
The south unit (approximately 4,500 square feet) will be designated to replace the existing "Cask and Keg" liquor store and the north unit (approximately 2,000 square feet) will be a service commercial use and is yet to be determined.
Location:
858 ESQUIMALT ROAD, Esquimalt, BC
Category:
Urban Rental Communities
Project Size:
256. 000 sq. ft