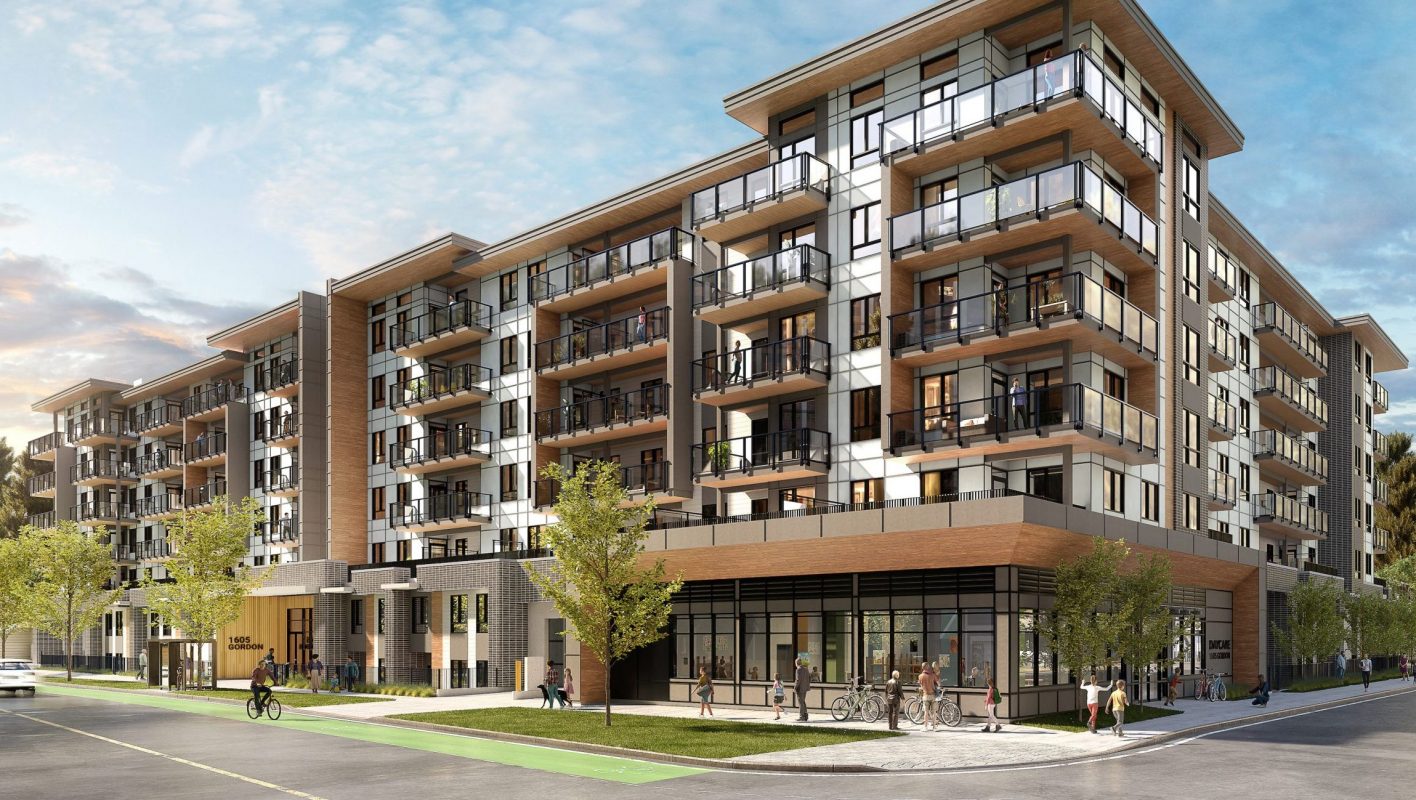 PC Urban and Nicola Wealth Launch Construction on Major Multi-Family Rental Building in Kelowna
June 26, 2023, Kelowna, B.C.
PC Urban Properties and Nicola Wealth Management start construction this week on a long-awaited, six-storey development offering 192 purpose-built rental units and a 3,800 square foot secured daycare. The new development will be comprised of 52 percent family-friendly 2- and 3- bedroom units, outstanding outdoor amenities, indoor social and activity rooms, EV charging and car share.
The project will be bringing a comprehensive, 100% rental apartment building to the area, with a permanent, new, state-of-the-art replacement daycare in perpetuity. The previous building was at the end of its life, requiring a new vision to address the problem of providing housing for everyone.
"PC Urban is committed to providing much needed rental housing, and this is attainable new housing in an area with a below 0.6% vacancy," said Shawn Smith, PC Urban CFO. "This is the only rental building in Kelowna with a secured, in perpetuity daycare providing convenience to families both living in the new building and those families in the nearby downtown core."
"We love investing in Kelowna. Nicola Wealth has deep roots in this city," said Stephanie Marshall, Director, Value Add Fund with Nicola Wealth Real Estate. "Building multi-family housing has been a focus of our fund since day one; this project is an opportunity for us to provide the community with much needed rental housing and daycare, both of which are severely needed."
"This is a really well envisioned and planned project that we are thrilled to see in Kelowna," said Mayor Tom Dyas. "These purpose-built rental homes are exactly what we need to fill in that missing middle housing that is suitable for families and with great amenities included."
The project will be a 100% rental building with a secured, long-term childcare centre with 50 spaces. The six-storey building will sit atop a two level parkade with 213 parking stalls. Twenty-eight of these are dedicated to the daycare and visitors. The complex will feature a large outdoor amenity space located on the second floor with a community garden, a barbecue and dining area, a fire pit and an indoor gym.
This development is part of PC Urban's new brand of purpose-built rentals called Urban Flats. The new brand is aimed at developing permanent rental communities for residents across B.C. The brand currently has about 900 rental apartment homes under construction and another 650 homes in the design and approvals stage, with various capital partners. The new rental brand will focus on brand new, vibrant, liveable communities that enrich the urban fabric.