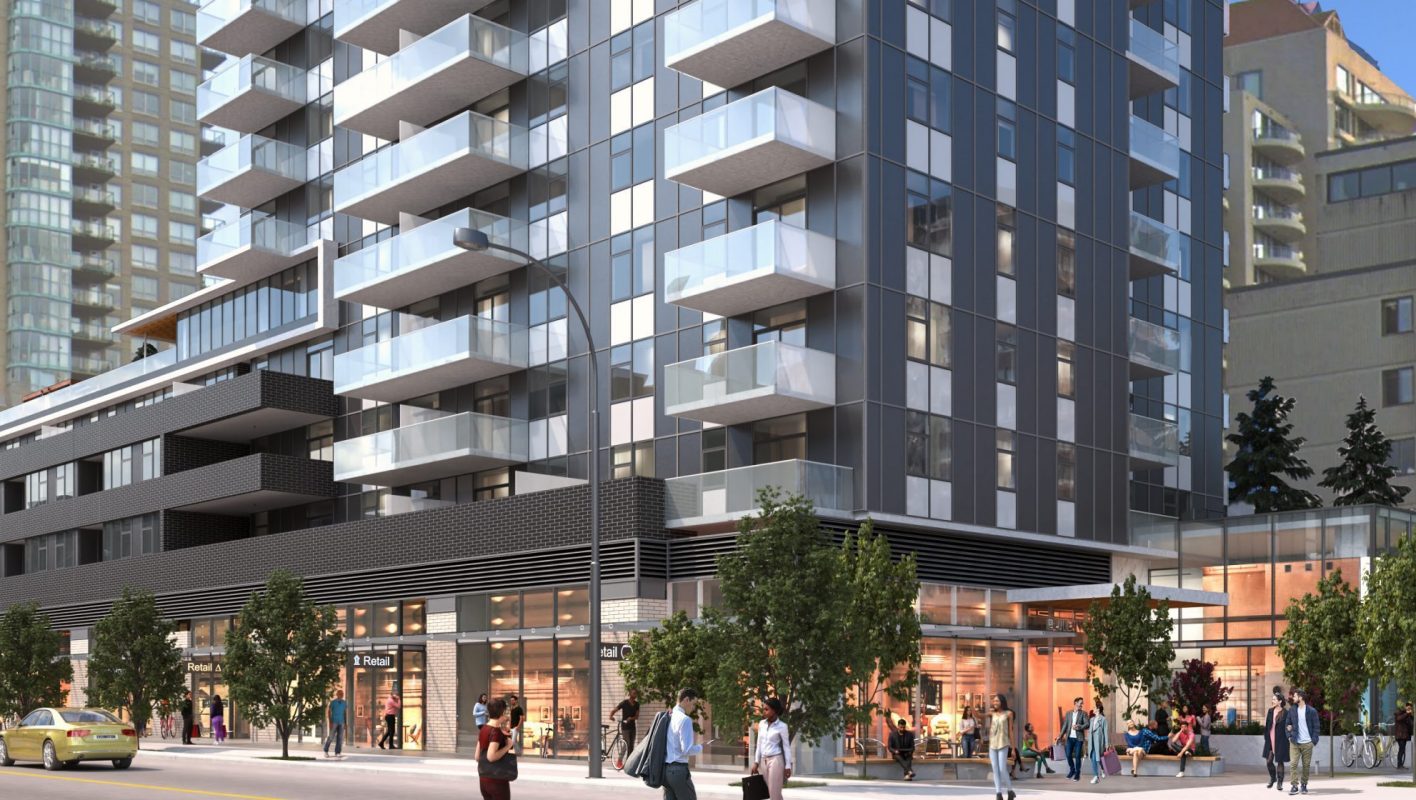 PC Urban Properties Breaks Ground on 338 Purpose Built Rental Development in New Westminster
New Westminster, BC, April 18, 2023
PC Urban Properties is breaking ground this week on a 29-storey, concrete tower with 338 purpose built rental homes in the heart of New Westminster. This centrally located 0.8 acre site at 616-640 Sixth Street is close to multiple amenities, including Royal Centre Mall. The new residential rental tower will provide a significant addition of new purpose-built rental to the city, as well as 10 units of affordable housing operated by the Seniors Services Society of BC. In addition to street-level retail, the development will also offer 500 square feet of below-market commercial space to a charitable organization.
The Uptown neighbourhood has had less than 100 rental units added in the last 10 years. As such, this new project will offer an injection of much-needed, rental homes. New Westminster has the highest percentage of renters in Metro Vancouver, with the lowest vacancy rates in the region, currently below 1%. With a 7.6% population growth rate, this new rental offering aims to alleviate growing demand for rental housing in the area.
"We are excited to expand our purpose built residential portfolio with this new concrete tower and to help boost the rental options in this area," said Brent Sawchyn, CEO of PC Urban Properties. "We are proud to integrate the affordable seniors rental into building so that this is a complete community. We recognize the need for more rental housing options in New West and we believe everyone deserves a home."
"The City of New Westminster is pleased to support PC Urban Properties, and the first major new residential development in Uptown in a decade. With the long-term commitment to market rental and walkable commercial space, this new project will meet the housing needs of our growing community and bring a refreshed streetscape to Uptown," said Mayor Patrick Johnstone. "This project has a well-integrated and accessible design that aligns with the City's Official Community Plan and will be a great addition to the neighbourhood."
Located within a five minute walk to the Massey Theatre, Queens Park, the public library, playing fields, Tim Horton's, Save-On Foods and the Royal City Centre mall, the new rental tower will offer an amenity rich experience, as well as proximity to transit, with the nearest rapid-transit station 1.5 km walk away, and frequent transit network bus routes fronting the site. Set at a high point in the neighbourhood, the site also offers spectacular views of the Fraser Valley.
Development plans include four levels of underground parking with 271 stalls, 5 publicly accessible car share vehicles, with 10,442 square feet of commercial space and 10 units of below market rental housing. IBI Group has been engaged to design the building for municipal approvals and construction.
Construction is now underway, with completion and occupancy expected in Q4 2025.