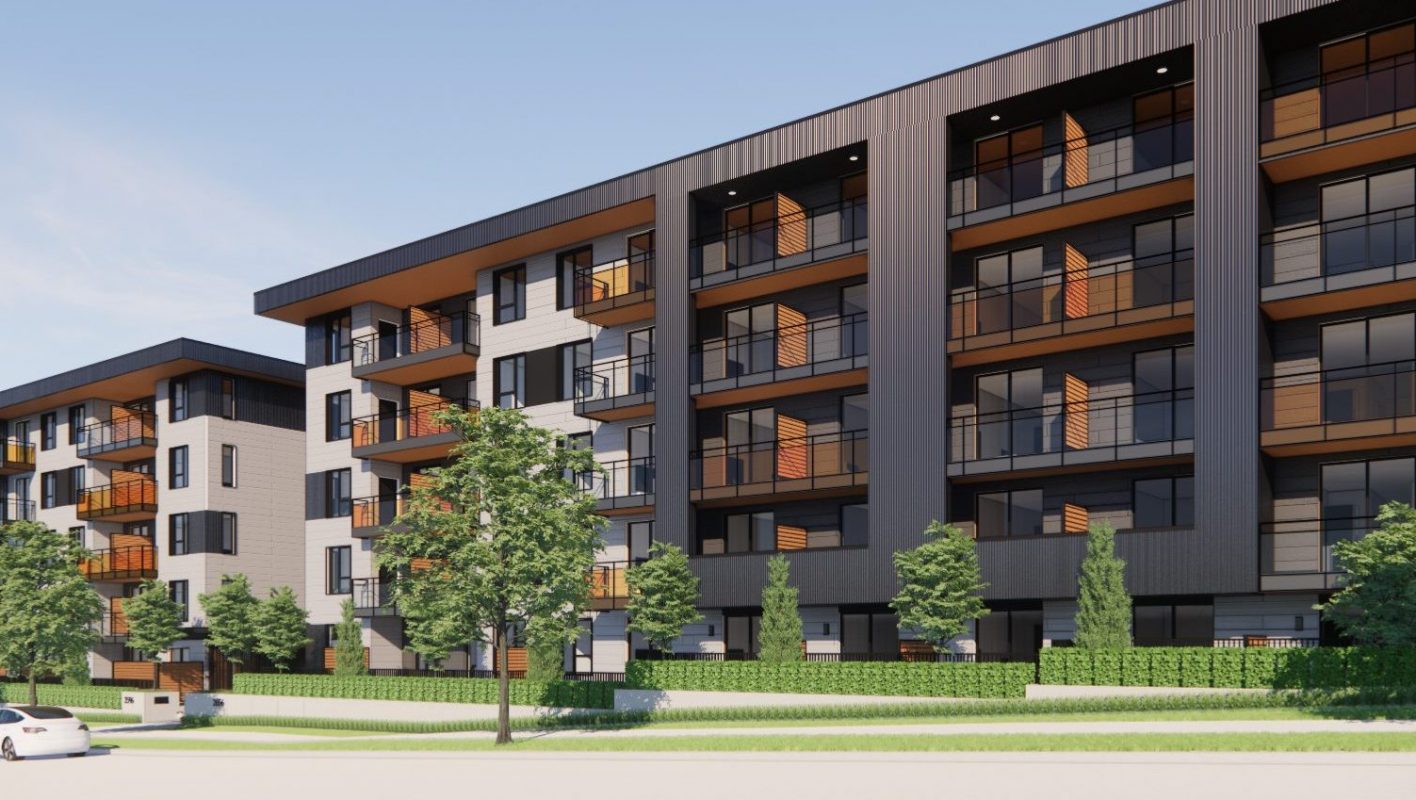 PC Urban Properties Corp and Fiera Real Estate Announce 141 New Purpose-Built Rentals in Vancouver
September 27, 2023, Vancouver, BC
Under the City of Vancouver's Secured Rental Policy, PC Urban Properties is working with its partners, Fiera Real Estate, to bring 141 rental homes, including 12 townhomes, to South Vancouver. The new proposal is awaiting a development permit from the City after receiving rezoning approval this summer. Thanks in part to the new GST exemption, and in conjunction with stabilizing construction costs, this project will now be moving forward.
The 1.09 acre site, at East 41st and Wales St., will see the addition of much-needed new rentals to this neighbourhood. Currently home to six single family homes, the site at 2596-2656 East 41st Avenue will provide a range of housing types, including studios, 1, 2 & 3-bedroom apartments and three bedroom townhomes. The current building design includes more than 35 percent family-oriented (2- to 3-bedroom) homes, including 12, 3-bedroom townhomes.
Centrally located on an arterial transit corridor between the Metrotown and Oakridge town centres, and between both the Victoria Drive and Kingsway-Joyce Street commerical shops an services, the proposed project will also offer on-site amenities, including a rooftop amenity, gym, children's play area and ample green space throughout the site, as well as ample parking and plenty of in-suite storage. Nearby off-site amenities include Norquay Park, Cunningham Elementary and Killarney Community Centre.
"We are committed to increasing the supply of purpose-built rental housing, despite the growing obstacles and market conditions," says Brent Sawchyn, CEO of PC Urban. "We are excited to be part of the new SRP program to fast-track rental housing in Vancouver. City staff upheld their commitment to deliver approvals for this important housing project in the timeframe they initially outlines. Actions like the elimination of GST on new rental buildings and speed of approvals will help alleviate our housing crisis."
"We are dedicated to shaping a future where purpose-built rentals stand as pillars of progress, addressing the critical need for housing supply," said Kathy Black, Senior Vice President, Development, Core & Opportunities Strategies." We are excited to be collaborating again with our trusted partner, PC Urban, on this program where we are crafting communities and enhancing urban living. Purpose-built rentals are the foundation upon which thriving neighbourhoods are built. Together, we are not only addressing the need for more housing supply, but also nurturing a sense of purpose, belonging and sustainable living for all. The City's new policies and their partnership in keeping these approvals on schedule has been immensely valuable in this realization."