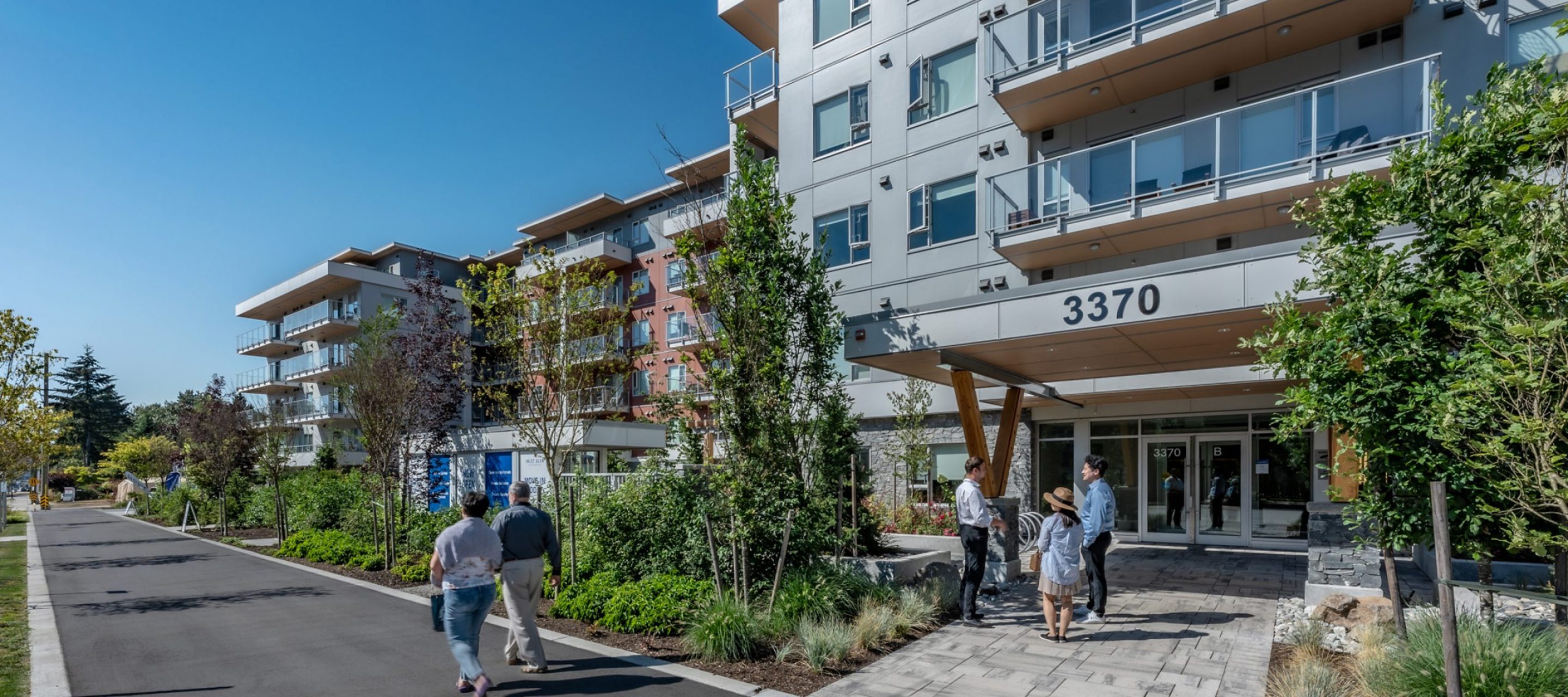 3370 Dewdney Trunk Road
Reimagining what purpose-built rental can be
For many would-be residents of the upwardly-trendy city of Port Moody, finding rental apartments is an unending challenge. With an abysmal vacancy rate of 0.5%, drastically out-of-date available rentals, and an obvious lack of diversity in rental options, there was desperate need for modern, amenities-rich rental housing.
At 3370 Dewdney Road, we immediately recognized the potential to transform the property in to a shining example of what purpose-built rental could look like. At the time, the property was being under-utilized as derelict mobile home park. We got to work re-imagining a condo-quality rental development with premium amenities in a near-perfect location, just minutes from the transit hub surrounding Inlet Centre Skytrain Station. This plan went from the drawing board to become a substantial 206,000 square foot, six-storey mid-rise.
Our first challenge with the project involved the existing mobile home community itself—the current occupants of the mobile home parks.  We could see the potential of this site and knew that it could be re-imagined as a new community, one built to foster long-term occupancy. So we facilitated above and beyond mandated requirements, in conjunction with the residents, to gently and thoughtfully move them into new communities to also allow them to thrive long-term.
Employing the PC Urban signature condo-style approach to finishes and fixtures, we fitted all units with premium-grade stainless steel appliances, quartz countertops and luxury vinyl plank flooring. Shared spaces include indoor social gathering rooms, an outdoor children's playground, outdoor gardens and even electric vehicle charging stations. To further promote accessibility, the property boasts of a bike storage holding up to 350 bikes which have direct access to the newly enhanced bike path fronting the property, a legacy benefit of the project that the community of Port Moody will enjoy for years to come.
Completed in 2021 and managed by property investor, Realstar, this project has without a doubt brought much needed new supply to Port Moody's rental market.  Perhaps more importantly, the development has become an anchor for the surrounding community, giving longstanding residents the opportunity to keep on living in a community in which their roots have grown deeply.
Location:
3370 Dewdney Trunk Road, Port Moody, BC
Category:
Urban Rental Communities
Project Size:
229 Rental Homes
Project Value:
$93,944,233