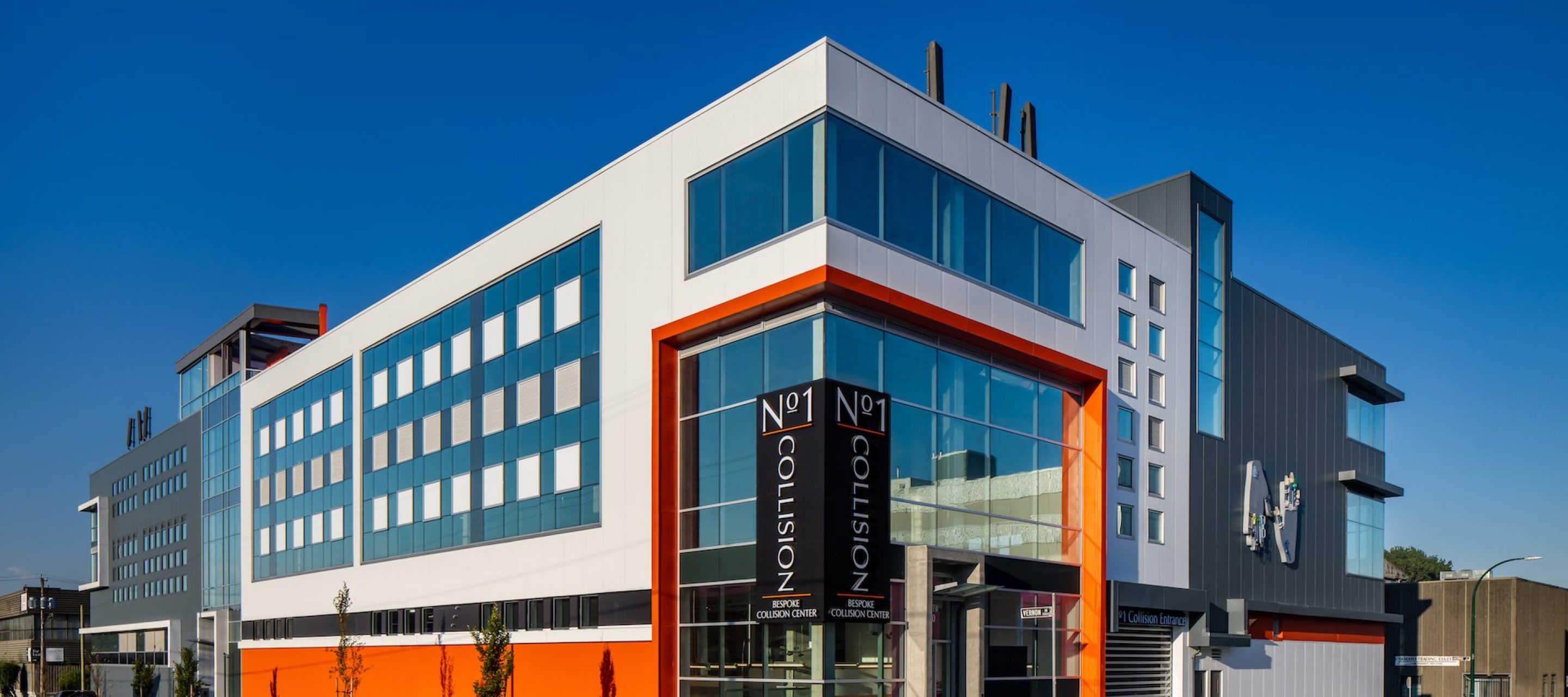 Evolution Block
The False Creek Flats area is a popular business neighbourhood in Vancouver, and becoming quickly known for its emergence as both a healthcare and tech hub as well as its immediate proximity to the urban downtown area, key transit routes and the globally significant Port of Vancouver.
With its manufacturing history dating back to the 1920s, the area had seen more than its fair share of sprawling warehouses and old-school industrial developments. When PC Urban approached the area, we quickly recognized it could be something more: an outstanding opportunity to solve the city's pressing need for modern, amenities-rich industrial and office space.
Our solution: build up, not out. We re-imagined a former single-storey warehouse as a 105,000 sq-ft multi-storey commercial and office strata development, equipped with convenient end of trip amenities, EV ready parking and thoughtfully designed to offer businesses a modern, stacked take on office and industrial space. The Evolution Block was the first development of its kind in False Creek Flats, combining an attractive mix of industrial and office space, highly efficient floorplates, abundant glazing, and impressive functionality in a single building.
In typical PC Urban fashion, we designed and built the project with a variety of operationally impactful features, including expanded loading docks and modern freight elevators with the industrial users in mind, and abundant glazing and open-concept layouts for the offices users to take in the stunning unobstructed park views to the west. The building also boasts high ceiling clearance on all floors and a rooftop patio giving teams a place to relax, recharge, and reconnect during or after the busy business day.
At PC Urban, we take pride in being a part of every stage of the development life cycle—from concept to completion and beyond to sales and leasing. So when industrial tenancy inquiries saw an immediate decline due to the COVID-19 pandemic, we chose to view that as a further opportunity. With the Biotech industry thriving, we invited Precision NanoSystems Inc, an increasingly important and significant player in the Canadian pharmaceutical industry, to consider Evolution Block their new home. This transaction set a precedent for rates in the False Creek Flats, affirming our ambitious vision to revitalize an old industrial neighbourhood as the future home of world-class businesses.
Completed 2021
Location:
1055 Vernon Drive, Vancouver, BC
Project Size:
104,000 sq. ft.
Project Value:
$68,118,948