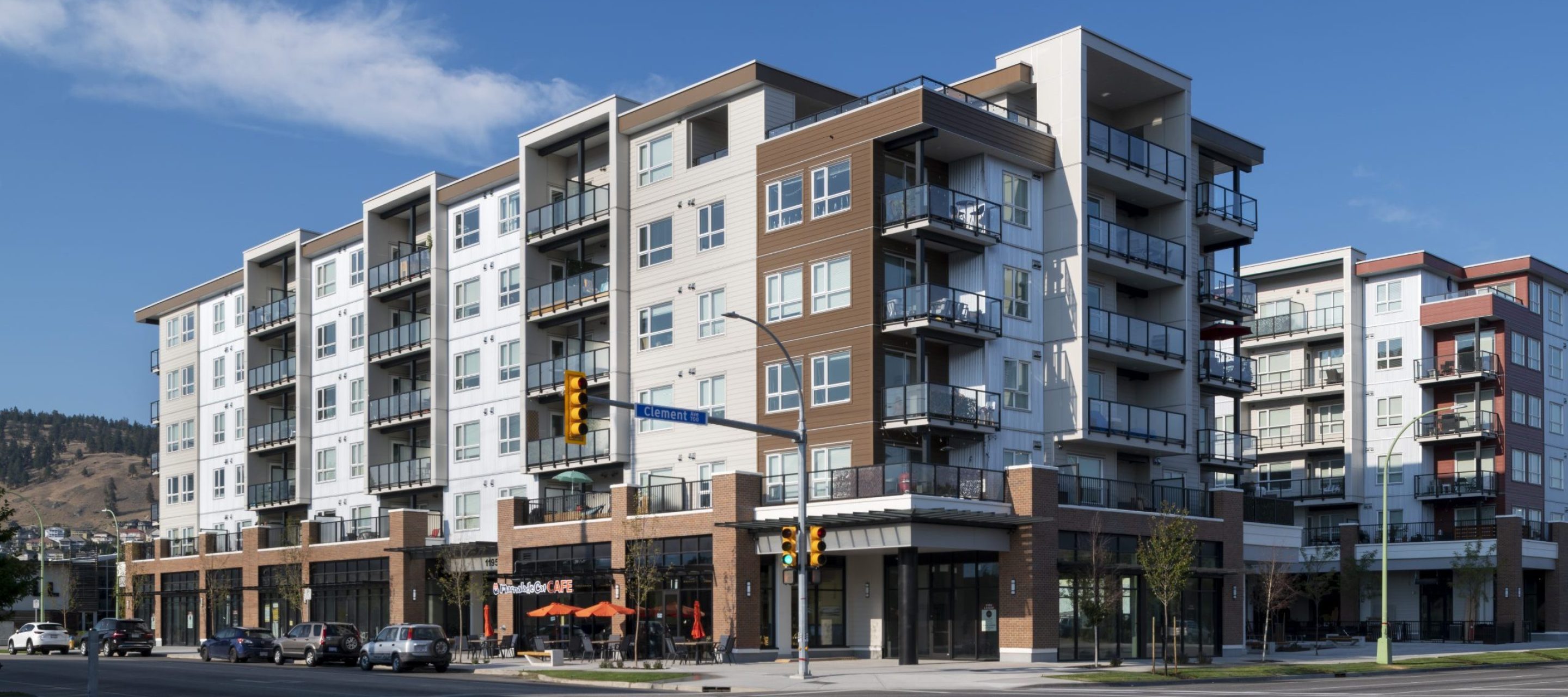 The Lodges at Packer's Junction
Bringing life back to an historic Kelowna neighbourhood
Over a century ago, Kelowna's pioneers developed the city's north end with warehouses and packing plants to ship Okanagan fruit all over the world. As the city grew, industrial owners gradually moved out, opening the door to an entirely new vision for the north end of the city.
When PC Urban examined the area surrounding the historic packing district, we saw an opportunity to bring the neighbourhood back to life by building an entirely new integrated urban environment, one that balanced the needs of residential, retail and commercial users.
The sheer size of the project was one of its challenges: spanning over five acres, we subdivided the project into two phases, working closely with the city's planning department to redefine uses for each section. From the start, our intention was to build a transition zone between existing residential neighbourhoods to the south and more traditional industrial uses to the north, while revitalizing the community with new retail and other employment opportunities within this established area.
The result: The Lodges at Packer's Junction, consisting of two buildings of 158 purpose-built rental homes featuring condo-like finishings and a variety of well planned unit layouts. Street-level retail spaces featuring boutique merchants and restaurants are an attractive addition to the property, adding to this revitalized neighbourhood's appeal.
As always, we paid particular attention to the design and amenities of the project. Instead of simply glossing over the historic industrial character of the location—or limiting it to a few mentions in a marketing brochure—we chose to celebrate it. We incorporated historic touchpoints throughout the architecture. We chose solid industrial materials (brick, steel, timbers) that blended with the contemporary look of the two residential buildings features. We created a harmony between the past and the present, setting the tone for what is the city's oldest and newest neighbourhood at the same time.
The thoughtful amenities elevate the project far beyond existing as "just another rental building." Large, open-concept living areas give each suite a modern, stylish feel. A state-of-the-art fitness centre allows residents a convenient place to unwind and stay fit. And rooftop solar panels help make the building contribute to a healthier environment—one that extends far beyond the neighbourhood itself.
We're immensely proud to see the Packer's Junction community contributing to the re-energized north end of downtown Kelowna with its fresh entrepreneurial spirit and a bustling residential neighbourhood. All in all, a fitting example of what is potential for creation, in a city that continues to grow, evolve, and prosper.
Completed 2020
Location:
Clement Ave & Richter Street, Kelowna, BC
Category:
Urban Rental Communities
Project Size:
158 Rental Homes
Project Value:
$52,729,038